Before Christiaan and Kseniya Welzel started planning their trip to Pripyat and Chernobyl, Christiaan's image of it was based on Call of Duty: Modern Warfare. "It was dark and mysterious. It looked wet. That was my only preconceived notion."
Admitting to an obsession with the macabre and other general unpleasantries, Christiaan, a creative director in advertising, was more interested in seeing the darkest vision of Chernobyl. "I even had an idea of how I wanted to color correct the footage," he says. Kseniya, on the other hand, tried not to have too many expectations, but suspected it would be sad and eerie. What the couple found upon arrival was not exactly what either envisioned.
Off the beaten path
For the better part of the last eight years, Christiaan and Kseniya have been travelling. "We obviously suffer from wanderlust," says Christiaan. After a trip to India, they realized they wanted to focus on places that are tough to get to, the unexplored, the unattainable.
They considered destinations such as Antarctica and ghost towns but landed on Ukraine. Not only does Russian-born Kseniya have roots there, Chernobyl and Pripyat certainly fit their "off the beaten path" mandate. So, early in 2013, they began preparations.
Finding a private tour company that could accommodate them and their equipment and take care of most of the paperwork wasn't too difficult. However, going as a tourist is one thing, as a video journalist another. "Once we booked the tour, bribes had to happen," notes Christiaan.
With all that gear, questions got asked. They had to pay a bribe to get the paperwork pushed through and to guarantee that no one would ask questions once they arrived with a cinema camera. Christiaan wasn't comfortable with that, but knew it was often how things got done in the area, especially since the collapse of the Soviet Union. "Whatever it took to get the shot, we were willing to do."
Into the Zone
Three months after preparations began, Christiaan and Kseniya arrived. It was April 24, 2013 — two days before the 27th anniversary of the Chernobyl disaster.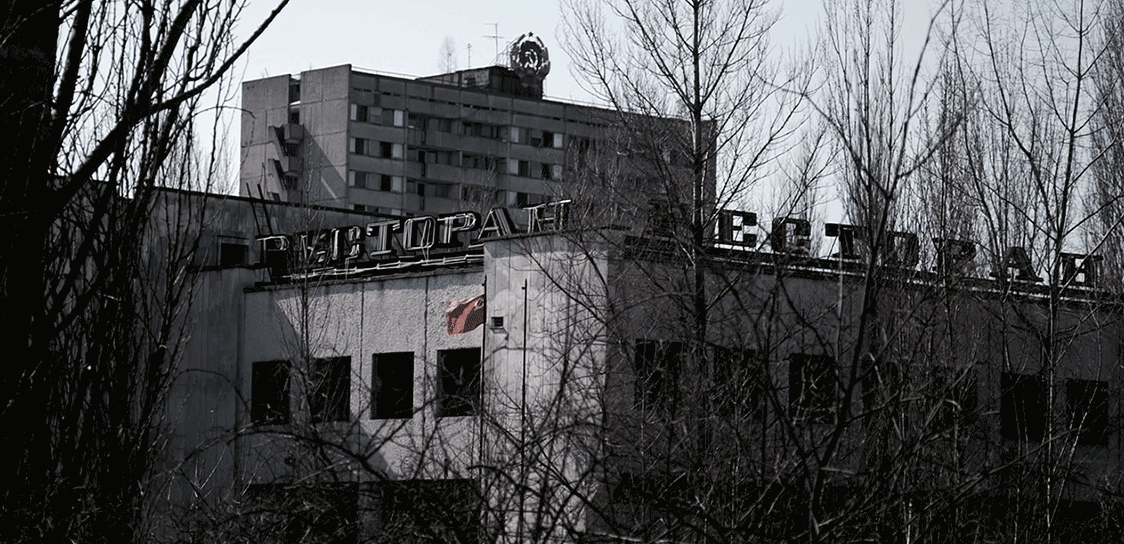 From Christiaan's Chernobyl Cinemagraph Collection
After paying another bribe at the gates, to men with machine guns ("not for the faint of heart," remarks Christiaan), they were in the Exclusion Zone, a 1,000 square mile area surrounding the nuclear power plant where contamination is highest and access is restricted.
Although they were in, there were still areas they weren't allowed to enter. "Those were the areas we wanted to go into," says Christiaan. Another bribe to their guide, in consideration of the risk he was undertaking, ensured they got into buildings a regular tour group never would.
Run-and-gun
Shooting in a nuclear fallout zone presents unique challenges for a filmmaker. You obviously can't plan for it, can't scout locations. When they were told they'd be entering a schoolhouse, they expected to see desks and a chalkboard, the usual paraphernalia of a classroom. Instead, they were shocked to see the room strewn with "a sea of gas masks." They knew immediately that was the shot.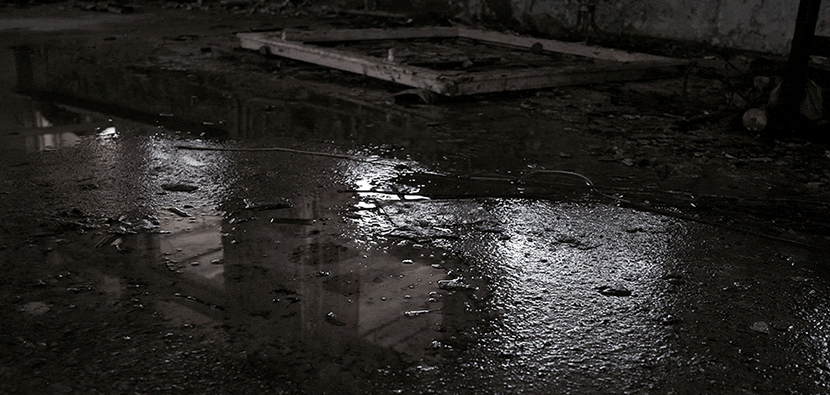 From Christiaan's Chernobyl Cinemagraph Collection
Hostile surfaces were everywhere. Christiaan and Kseniya couldn't touch anything, especially the water, the most irradiated of anything there. Yet they were surrounded by dripping water and puddles. Because their gear couldn't touch the ground, it was always in garbage bags, which could be used only once per shot. "That's a lot of garbage bags."
In the meantime, all around, they could hear creaking wood, concrete giving way, and things falling apart. "That's a wildly uncomfortable feeling. There is literally no escape if something goes wrong," Christiaan says.
At first he was anxious. Not because of the obvious, but more because time was tight — they had only two days to film. They needed to shoot quickly but carefully. Very carefully. "It was truly a run-and-gun experience," laughs Christiaan. "You can't stop and frame. You just have to turn the camera on, light it nicely, and get what you get."
What he found was that that urban decay framed itself. "Every shot is a good shot. Every shot delivered on that message of annihilation."
Beauty in the apocalypse
When Christiaan and Kseniya set out, they wanted to capture Chernobyl as it had never been done before. They wanted to film it in a way that was cinematic — and to do it with finesse. "I hope the footage will be used for artistic purposes. In the way it's shot and lit, each image paints a portrait," he reflects. "I hope it strikes more of an emotional response."
But neither of them wants anyone to feel sorrow after seeing the footage. "I would like people to see it not as a horrible place, but as a reminder that this has happened," says Kseniya. "It's peaceful. Nature is taking it back. You can hear birds chirping." Adds Christiaan, "We want people to find the beauty in the apocalypse, in the dilapidated."
With the buildings falling apart, you're not likely to see much footage like this coming out of Chernobyl. A week after Christiaan and Kseniya were in the schoolhouse, it collapsed.
See Christiaan's cinemagraph gallery
Read his Reddit AMA
See all his footage