Styling is not just for fashion magazines and celebrities. In fact, styling for stock footage is a real art. You want to create footage that looks both contemporary and timeless — and that's also commercially viable. In this post, rights and releases manager Pamela Haskell shares things to be on the lookout for when it comes to apparel that could render your footage commercially unusable.
---
Beware branding
It's more complicated than avoiding logo T-shirts — although that's a good place to start. You could have great models, an awesome location, carefully planned shots, and perfect lighting yet not be able to use a single shot because of branded clothing.
Bottom line: Don't film models wearing clothing with logos, copyrighted artwork, or other distinct brand elements. The presence of a logo suggests a relationship between the end user of the footage and the brand, or endorsement by the brand. There is never a time when this will be okay. It doesn't matter if the logo is small — iconic logos are instantly, internationally recognizable even at small sizes. For instance, the Nike swoosh is clearly a problem regardless of size.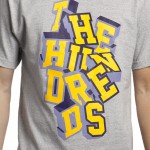 Clothing from lesser-known designers should also be avoided. A shirt like this one from The Hundreds might slip past you because it doesn't feature an iconic logo. However, the brand name belongs to the company, and the illustration is a protected artwork that requires an art release before it can be filmed commercially.
Other items of branded clothing are so problematic they will likely result in automatic rejection for commercial footage. These include commemorative event apparel, sports jerseys, ball caps with a team logo, and children's clothing with licensed characters. Even knock-offs and parodies aren't acceptable. They reference the original brand or artwork, which, again, you don't have the rights to.
The devil is in the details
Sometimes it's not a logo emblazoned across a T-shirt that'll bust you — it could be the tiniest detail.
Be cautious when filming jeans. A model in jeans is no problem, but avoid filming denim details. They distinguish one brand from another and may be protected by copyright. For example, embroidery patterns on the back pockets, patches, and tabs are all protected.
Manufacturers make sure their brand identifiers are unique enough to be distinguished from other brands, and that means they can be recognizable in your footage. Most protected design details for jeans are on the pockets or fly, so avoid focusing on these areas, or obscure them with a longer shirt.
The same goes for shoes. In general, be more careful with more expensive shoes. Almost all shoes will have some branding that should be obscured if visible in a tight shot, but designer footwear is more likely to have unique design elements that are protected. Watch out for soles on extreme low shots — they often have brand names or identifiable patterns. And if you've bought new shoes for the shoot, make sure you've removed the pesky price tags!
Don't despair after reading all the things you can't shoot. Guest expert Ghyslaine — stylist for our contributor Hero Images — has tips for styling authentic, current scenes while avoiding branding issues.
T-shirt image via The Hundreds.