It's worth looking into these Photoshop alternatives because many of them are powerful enough to compete with Adobe's software and produce professional-looking results. Others are a fraction of the cost, if not completely free.
See our list of photo applications and photo editing software for even more options. Of course, if you want to go Photoshop, we've got you covered there as well. Read our guide to the top iMac alternatives if you're still looking for alternatives to the main brands. Now, continue reading for our recommendations for the finest Photoshop alternatives available.
The best Photoshop alternatives available now are:
1. Paint.net
Paint.net is the open-source image editor for windows. Paint.net is a Windows-based replacement for Microsoft's Paint editor, which was included with earlier versions of Windows. Don't let that put you off: it's a remarkably capable and helpful application, freely available at Getpaint.net (a commercial version is also available in the Windows store). There is a free version and a free trial is available.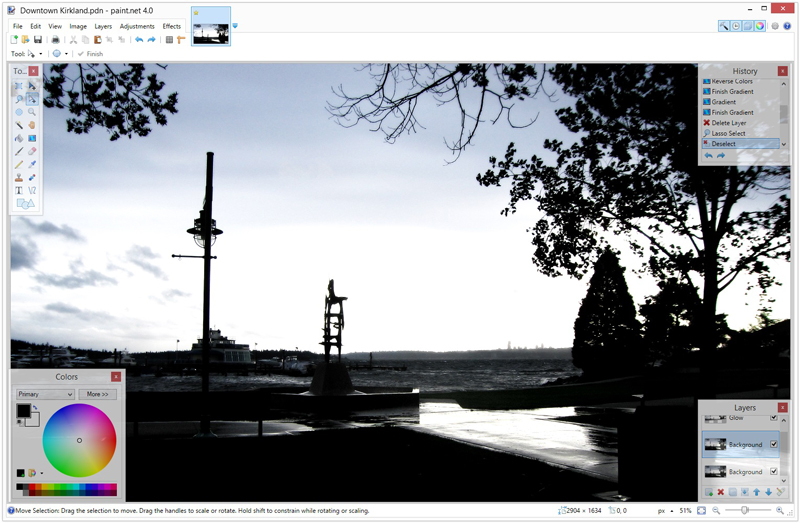 2. ArtRage
Drawing software that is both realistic and intuitive. ArtRage was created to allow artists to concentrate on their creativity. It includes a wide range of realistic oils, pencils, watercolors, canvas textures, and other conventional media painting tools, many of which are totally configurable.
After you start painting near the program's basic interface, it vanishes and reappears when you're done. Popular tools are easily accessible, but less frequently used functions are hidden in pods to save space. The program's various options to enlarge a brush cause a little workflow difficulty, but this is by no means a deal-breaker.
If you're new to digital painting and searching for a cost-effective, user-friendly application, ArtRage is a viable alternative. The program is also available for iOS and android at a cost of $4.99 each.
3. Photopea
Because of ongoing advancements in online technology, you don't always need a standalone program to do most of what Photoshop can, and Photopea is a browser-based choice from our Photoshop alternative solutions list that can handle a significant portion of your process.
Photopea is a powerful image editor with pro capabilities that look a lot like Photoshop and has most of the tools you'll need for regular image processing. It can open most common file types, including JPG, PNG, and RAW, as well as Sketch, GIMP, and Photoshop PSD files. Photopea allows you to work with layers and layer masks, as well as blend modes and a variety of selection tools, including conventional marquees, a magnetic lasso, and a fast selection tool. While it lacks sophisticated capabilities like content-aware fill that you'd find in Photoshop, it still has more than enough to keep most developers and artists happy, plus it's absolutely free.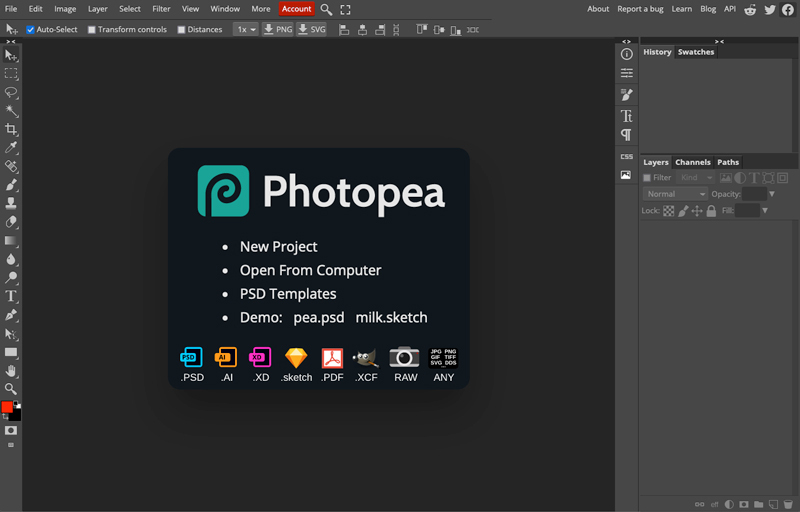 4. Krita
For brush performance, this is a great free Photoshop alternative. Krita is a great Photoshop alternative if you're looking for digital painting software. So much so that it was named the best free painting program in 2019 by Techradar.
One of the nicest things about Krita is that it was designed as an open-source application by artists who wanted to provide others with high-quality, low-cost software. They've also concentrated on tools that artists desire and require. For example, the brush tools are fantastic.
The UI is extremely similar to Photoshop's, so customers who are already familiar with Adobe's program will have no trouble getting started. Krita, on the other hand, lacks certain of Photoshop's particular picture editing features like a digital painting tool.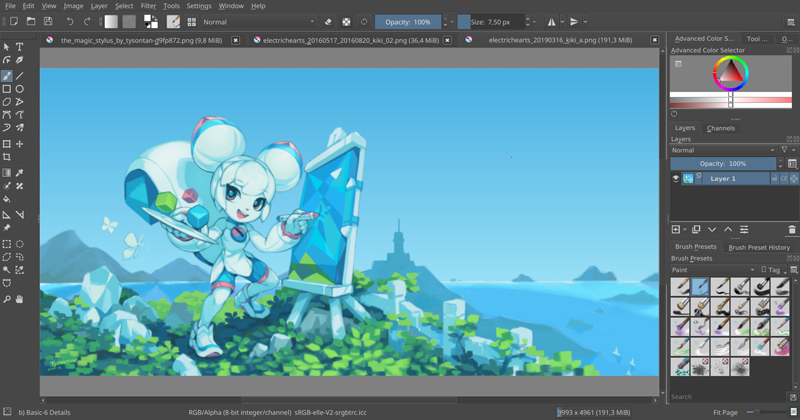 5. Sketch
Sketch is a professional vector graphics tool for creatives that has sparked a lot of interest among designers, especially web designers.
Sketch's development team has made it as adaptable as possible, with unlimited zooming and vector forms that work well in a variety of resolutions. You may create a new graphic using the vector or pencil tool, or build one from the ground up with basic forms.
It offers a basic user interface and numerous capabilities comparable to Photoshop and Illustrator, such as layers, gradients, a color picker, and style presets. Because of its popularity, there are a plethora of community-created Sketch plugins available to help you extend its capabilities. You can try a free 30-day-trial, then the Standard plan starts at $9/ a month.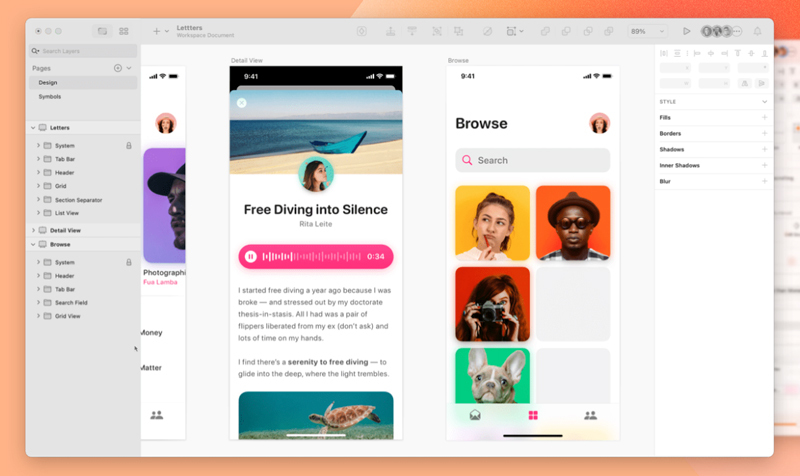 6. GIMP
GIMP is an open-source image editor with a long history. GIMP stands for GNU Photo Editing Program, and it's a free, open-source Photoshop substitute that's been around for a long time. It's now available in Linux, Windows, and Mac editions.
GIMP has a large toolkit that is similar to Photoshop in many respects, and it's a good choice if you want a free image editor. The UI is different from Photoshop's, but there is a version of GIMP that looks and feels like Photoshop, making it easier to switch.
Everything you're used to, including painting tools, color management, cloning, selection, and enhancement, is there at your fingertips. The design team has worked hard to ensure compatibility as well, so you'll be able to work with all of the major file types with ease. You'll also discover a competent file manager.
The design team has worked hard to ensure consistency as well, so you'll be able to work with all of the major file types with ease. In addition, there's a powerful file manager built-in, comparable to Adobe's Bridge.
Overall, this is a fantastic option if you're on a budget or looking for Photoshop alternatives for several other reasons.
7. Pixelmator Pro
Pixelmator is a Photoshop alternative that has been available for a while, but the Pixelmator Pro was just launched by the developers. The Pro version provides a more usable single-window UI and allows non-destructive picture editing, whereas the prior application used floating windows. The interface has been stripped down to make it simple to use – and there's even a 'hidden interface' option if you only want to see your image without any distractions.
Pixelmator 2.0 is the most significant upgrade yet, with a more straightforward interface, new M1 Mac compatibility, and a slew of new capabilities. This Photoshop alternative is designed specifically for Mac users and includes features such as tabs, full screen, and split view. You can try a free trial for 15 days!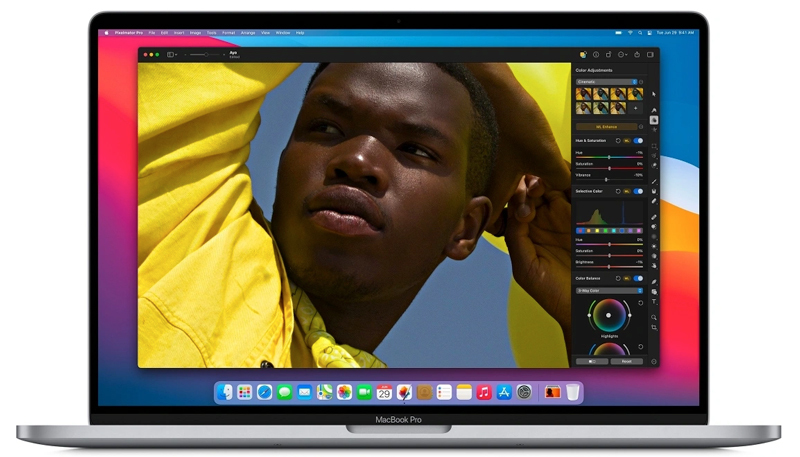 8. Pixlr
Pixlr is a free Photoshop alternative with over 600 effects, overlays, & borders. It also has all of the features you'd expect from a basic picture editor, such as cropping and resizing, as well as red-eye removal and teeth whitening.
If you're familiar with Photoshop, you'll find Pixlr's user interface to be extremely comparable and straightforward to use. This free app is available in iOS, Android, and web versions, as well as a desktop version.
9. PHOTO-PAINT by Corel
Corel PHOTO-PAINT is a professional image editor for Windows. There is a free trial available.
The CorelDRAW Graphics Suite includes a specialized picture editor called PHOTO-PAINT. The suite has been redesigned for 2021, with a sleek app for working on the move, better collaboration capabilities, and all of the professional vector drawing, layout, picture editing, and typography tools you'll ever need.
The suite is designed to operate seamlessly with Windows 10, and it supports multi-monitor viewing and the finest displays.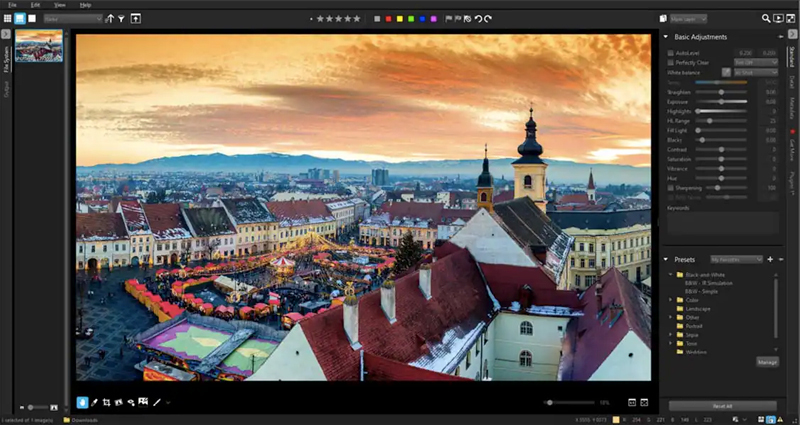 10. Sumo Paint
A web-based image editor that's quick and easy to use.
SumoPaint is a powerful, free browser-based image editor that deserves to be included in the Photoshop alternatives list. All of the basic functionality of a desktop application is present and proper. It's small and quick to load, and the free version is quite functional. There's also a Pro edition that costs money.
The regular set of tools and adjustments are all present and correct. Brushes, pencils, shapes, text, clone, gradients, and other tools may all be readily accessible via the floating toolbar, which looks like Photoshop. SumoPaint can also open files saved on the hard drive, making it a very practical alternative.
Some tools function differently than Photoshop, providing options that are tough to replicate in Adobe's suite. However, some users will be turned off by the limits, particularly in the free version.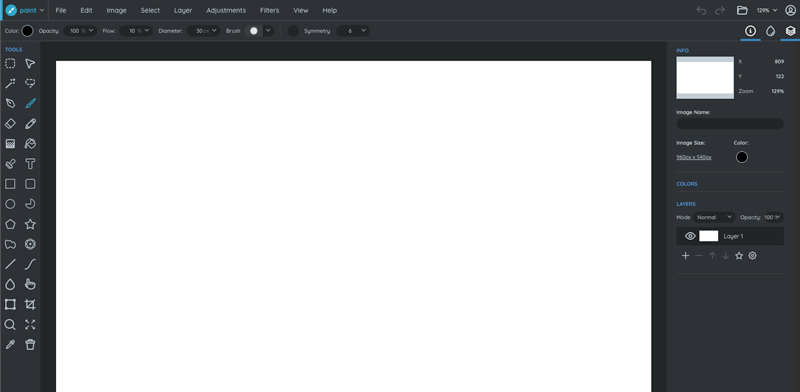 11. Acorn
Acorn, an image editing program, first appeared in 2007 and has since given a wonderful, inexpensive alternative to Photoshop for amateurs and artists on a budget. Layer styles, non-destructive effects, curves and levels, blending modes, and other features are included in the software.
New Scale and Transform tools, the ability to utilize the Clone tool over layers or pictures, and the ability to use emoji on a path are all included in the most current edition, Acorn 7.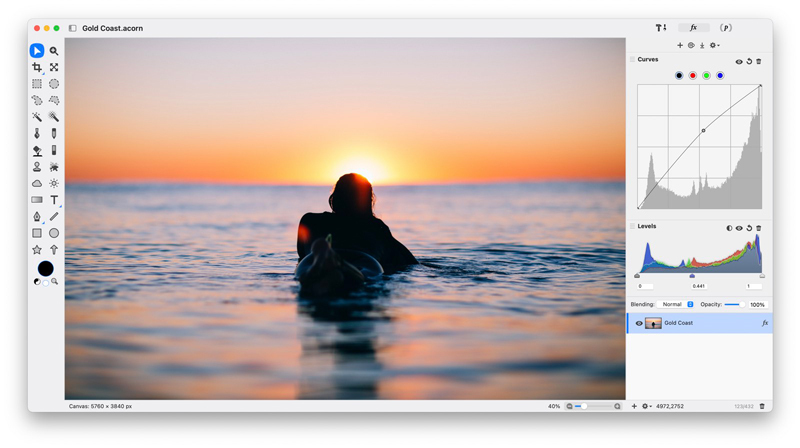 Screenshot via https://flyingmeat.com/acorn/
12. Procreate
If you're looking for a painting software for iPad as an alternative to Photoshop, you'll be hard-pressed to find one that offers greater performance and value than Procreate. What began as a simple sketching software in 2010 has evolved into a very professional tool – so much so that it was awarded an Apple Design Award in 2013.
Procreate is jam-packed with features that artists will appreciate, from true-to-life pencils, inks, and paints to advanced layer combining and unique digital tools to help you realize your creative dreams. You won't have to worry about unintentionally painting over your canvas with the addition of palm support, and you'll be able to add flare to your artwork with an ever-growing collection of Procreate tools.
Both the first-generation and second-generation Apple Pencils are fully supported by Procreate (depending on your iPad model). In 2019, a specialized iPhone version of the painting software, fittingly titled Procreate Pocket, was also released. Of course, you won't find all of the capabilities you'd expect from Photoshop here, but for digital painting, you'll have the majority of what you need.
To get you began, the Procreate website offers a free manual that includes an overview of all those other app's features and functions. Why wouldn't you want lifetime access to all of this for less than $10?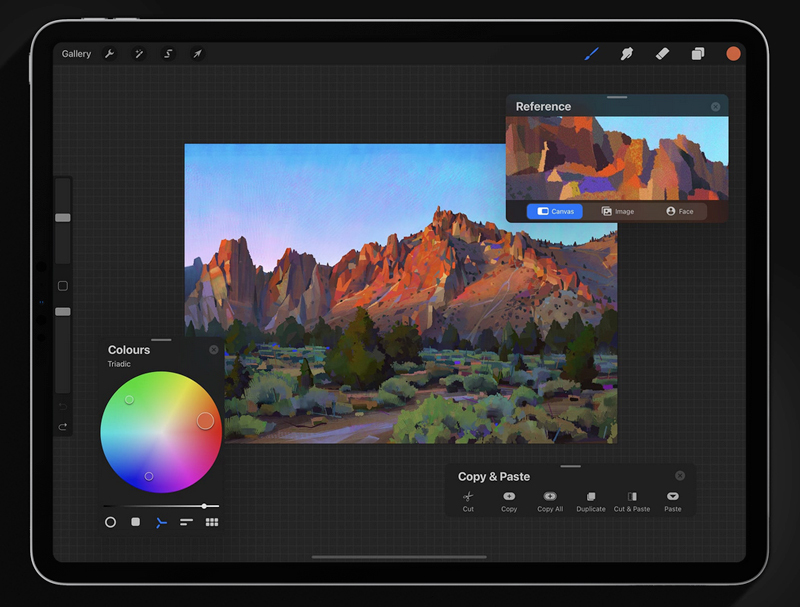 In conclusion, any of these 12 affordable Photoshop alternatives are fit for a range of amateurs and pros- stop wasting time and try one out! Need photos to practice editing on? We got you. Browse through our endless library of free, downloadable content on Dissolve Creators.
---
Posted by Dissolve Creators